Conditions We Treat
  Jennifer Klein Physical Therapy treats neck and back pain, shoulder pain, rotator cuff problems, hip pain, shoulder and hip bursitis, tennis and golfer's elbow, ankle sprain/strain, knee pain including meniscus  & ACL  issues, total knee replacement, all other joint replacements, arthritis, and neurological issues.
Private & Group Pilates Classes
Our Group Classes are taught by Certified Pilates Instructors. Our Instructors are also available to teach private sessions. In addition, Jennifer Klein, Physical Therapist and Certified Pilates Instructor, teaches private sessions to accommodate you as necessary for any medical history such as surgeries, injuries, etc. to ensure your safety and success. She also teaches several of group classes during the week.
Orthopedics
Jennifer Klein Physical Therapy provides integrated and structured treatment plans for patients recovering from orthopedic injuries or problems. She works closely with physicians, following their rehabilitation protocols.  The entire musculoskeletal system can be affected which includes bones, joints, muscles, ligaments, tendons, and nerves.  Jennifer Klein Physical Therapy helps those with broken and repaired bones, musculoskeletal issues and all joint replacements.
Pre and Post Op Surgery
Whether you are heading into surgery or coming out of it, Jennifer Klein Physical Therapy can help your experience by teaching you proper exercises pertinent to your surgery in advance or afterwards.  We work closely with physicians, following their protocols for the type of surgery performed.
Manual Therapy
Manual and soft tissue therapy interventions are used to decrease pain and improve motion & flexibility to stiff joints & muscles.   This helps the patient regain optimal, efficient movement patterns and restore function.  This includes hands on treatment of muscles, tendons, ligaments, and joints. Cupping and dry needling are also available to assist in accomplishing such goals.  The goal is restoration of injured tissues to normal function.
Neurological
Jennifer Klein Physical Therapy provides specialized rehabilitation addressing deficits in motion, strength, coordination, balance, and ability to ambulate for persons recovering from a stroke, closed head injury or living with a disease such as Parkinson's or Alzheimer's. We work closely with the doctor, family, and care givers to improve the patient's quality of life including their activities of daily living, independence, and necessary accommodations to the home to make life easier for all involved.
Women's Health
These services are dedicated to the specific needs of women which may include pregnancy related complications, breast protheses, pelvic floor dysfunction such as incontinence or prolapse, osteoporosis, fibromyalgia, and aging well.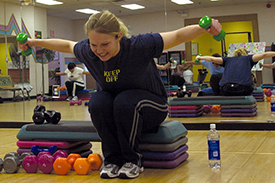 Fitness
Our fitness privates/classes are designed to increase strength, improve flexibility, and address balance deficits. As a part of this service, we will provide you with a home exercise program to help keep you on track. Sitting all day, driving for your commute, and life in general can cause weakness and tightness in certain muscle groups. Our fitness program helps to reverse this for you.

Dry Needling
Based on principles of Western medical science, dry needling can accelerate the process of the body returning to a state of homeostasis. It also enhances the effects of other manual and therapeutic exercises.
Sports Medicine
Jennifer Klein Physical Therapy services all ages and levels of athletes eager to recover as quickly as possible and get back in the game.  Jennifer Klein Physical Therapy works closely with physicians, athletic trainers, and coaches to expedite the process without jeopardizing the patient/athlete recovery.